A Travel Center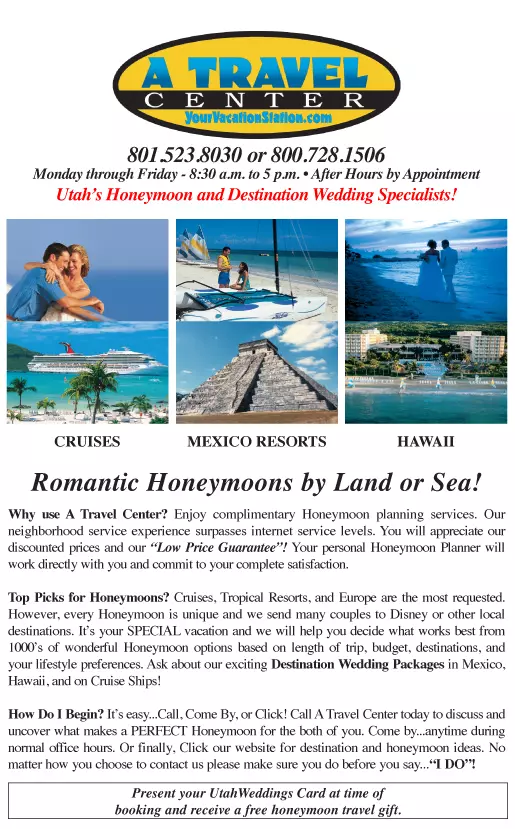 Affordable Romance by Land or Sea!
Why use A Travel Center?
Enjoy complimentary Honeymoon planning services. Our neighborhood service experience surpasses internet service levels. You will appreciate our discounted prices and our "Low Price Guarantee"! Your personal Honeymoon Planner will work directly with you and commit to your complete satisfaction.

Top Picks for Honeymoons?
Cruises, Tropical Resorts, and Europe are the most requested. However, every Honeymoon is unique and we send many couples to Disney or other local destinations. It's your SPECIAL vacation and we will help you decide what works best from 1000's of wonderful Honeymoon options based on length of trip, budget, destinations, and your lifestyle preferences. Ask about our exciting Destination Wedding Packages in Mexico, Hawaii, and on Cruise Ships!

How Do I Begin?
It's easy... Call, Come By, or Click! Call A Travel Center today to discuss and uncover what makes a PERFECT Honeymoon for the both of you. Come by anytime during normal office hours. Or finally, Click our website for destination and honeymoon ideas. No matter how you choose to contact us please make sure you do before you say... "I DO"!

Example rates are per person based on availability for double occupancy, select dates, ships, resorts, and accommodations. Taxes and government fees additional. Your specific rates may be higher or lower based upon your travel dates, selected resort or ship, and room requirements. Mexico and Hawaii vacations include airfare from Salt Lake. Cruise rate does not include airfare.