Avenia Bridal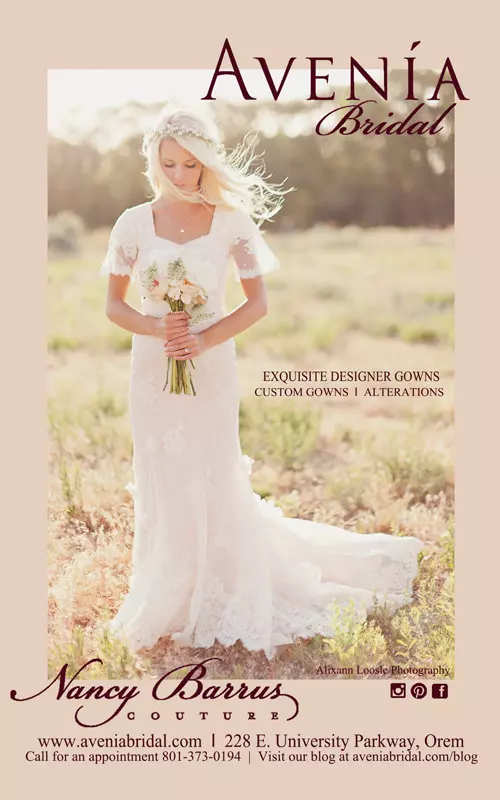 Avenía Bridal Boutique & Design Studio
Avenía is a destination bridal boutique featuring only the finest in designer bridal gowns and custom bridal creations. Inspired by the haute couture of renowned European and New York designers, and the artistry of Nancy Barrus Couture, Avenía creates once-in-a-lifetime bridal experiences. Avenía is more than a bridal experience; it's the fulfillment of childhood dreams and wedding day memories shared over a lifetime with family and friends.

The Avenía Bridal Boutique and Design Studio features wedding gowns from world-renowned couturiers. Our consultants frequently travel to design houses to select and bring you an inspiring selection of elegant bridal gowns exclusive to the region. During those trips, our consultants meet with designers and their staffs to assemble collections truly representative of the Avenía experience. These same consultants work with you to help you discover a gown and accessories reflective of your individual style, values and personality. Once your gown is selected, our team of expert designers and seamstresses can customize or alter your gown to meet your exacting requirements.

As a result of extensive market research and travel, Avenía is proud to feature couture gowns of exceptional design, fabric and artistry from the houses of Badgley Mischka Bride, Rivini, Vineyard by Priscilla of Boston, Sposa by St. Pucchi, Lian Carlo, Junko Yoshioka, Tara Keely, and Angelina Couture.

Avenía stands apart from its competitors by offering high-end designer and custom couture distinguished by its tasteful elegance and inspired craftsmanship. Brides have other options for high-end couture, but come to our bridal boutique and design studio for the 'Avenía experience', which consists of our investment in a long-term relationship, warm and attentive service, and inspirational design and customization.

An essential part of the Avenía experience is tailoring designer gowns to your unique shape, style and specifications. Avenía brides frequently request that a gown be altered or built up to accommodate religious or cultural considerations, such as Latter-Day Saint or LDS brides requesting temple-ready or 'modest' alterations. Several of the designers we carry have agreed to build up their gowns with shoulders and sleeves to your measurements, which eliminates alteration lines. With all other designers we have made arrangements to source original fabrics, thereby enabling our expert seamstresses to retain and accentuate the elegance and artistry of your gown.

Above all, the Avenía experience is about the fulfillment of dreams and aspirations, and the creation of lifelong memories created in an atmosphere of elegance, refinement, sophistication and warmth; an environment that—from the exterior to the interior, and from the décor to the staff—is uniquely Avenía.

We invite you to visit us online at www.aveniabridal.com. You can also visit our blog at www.aveniabridal.com/blog or stop by our Facebook page (search for: Avenía Bridal Boutique & Design Studio). To visit our boutique, we invite you to schedule an appointment by calling 801.373.0194.