Lillie and Grace Wedding Productions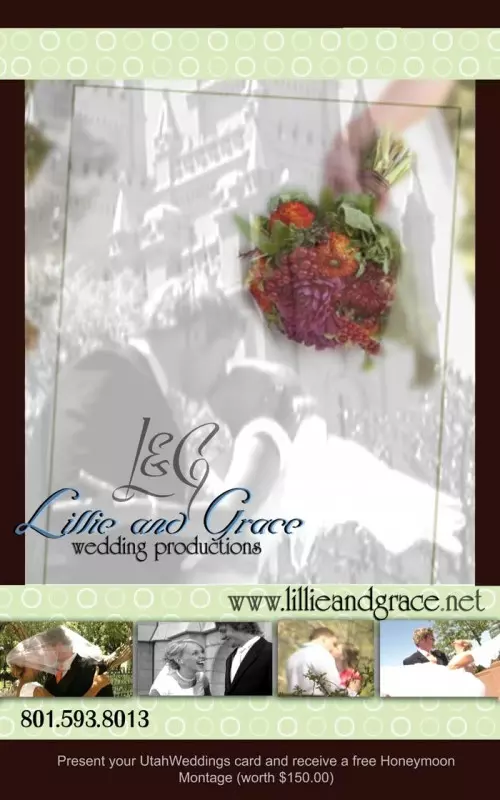 What we offer…

We offer professionalism, quality, and art at some of the lowest prices in the state. With over 10 years of video production work under our belts, we pride ourselves on our pure and vivid camera skills. No matter what they say, you can't fix everything in the editing bay. Especially when you want to capture the true feeling of your wedding day.

Our style is based upon capturing candid shots that really reflect who you are as a couple. With that as our foundation, we build a beautiful and creative video from all the beautiful shots that can be gathered. But the final style of the project, is up to you. We have done every style of wedding video, from documentary, to old film, to dreamy and soft. Just tell us your vision and we will bring it to life!

Packages and Products…

Our packages start as low as $250, with our most popular package at only $899. It includes everything you need for an excellent wedding video! But that's not all. We also offer a variety of ala carte items to really personalize your package. Some of these include: bridal footage, thank you videos, date footage, interviews, and video announcements.


"The Promise" $899
Photo Montage up to 100 images
Entire Temple/Civil Ceremony Coverage
Entire Reception Coverage
Same-Day Edit (Time Allowing)
Video Presentation at the Reception
Highlight Video
Cinematic Style Editing
Three Copies of the Completed Project on DVD
Custom DVD Menus

Our services…

First, there is NEVER a time restriction on our services. We are there until everything is captured. We shoot all our weddings with Canon XL series cameras and edit with Avid Editing software. We offer wireless microphones for all civil ceremonies to insure the best audio and we are always upgrading our equipment. Check out all of our services as [url=http://www.lillieandgrace.net]http://www.lillieandgrace.net[/url].

Feel free to call or email us with any other questions 801-593-8013 or send me an email - lillieandgrace@gmail.com

Get your Free Online Wedding Planner!
Create a personal account to save your favorite vendors, set up email reminders, track your wedding budget and more...