WEDDING HISTORY & FAQs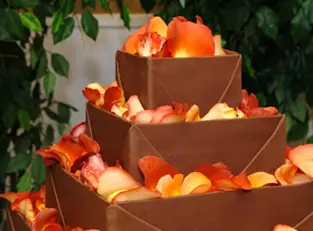 Have Your Cake & Decorate It Too
Some Helpful Hints For Designing A Seasonally Appropriate Cake
By: Keely Coxon
Leaves, polka dots and flowers…oh my! When it comes to incorporating the wedding season into your cake décor, the limit is the sky. From chocolate leaves to meringue flowers and whimsical spots, season-themed cakes have never been more imaginative than they are right now.
To begin, let's get one thing out on the table (pun very much intended): Utahns love their chocolate. L-O-V-E love it. Coincidentally, this is quite fortunate when it comes to designing cakes, as chocolate is becoming a crucial element of any plans for fabricating a creative cake, says a staffer at Exclusive Wedding Cakes, a local bakery that specializes in novel cake design. Many ask why chocolate, a substance as hard and unmaleable as possible in its raw culinary state, would be helpful whatsoever in building cake decorations. It's quite simple, actually: chocolate melts, and anything that melts can be easily re-molded into a completely different shape, from the aforementioned flowers to leaves and polka dots. To delve deeper into the subject of meltiness, while chocolate can be melted with ease, it doesn't always have to, unlike certain other food concoctions, which often wilt under the harsh summer heat known to these parts. Furthermore, white chocolate, in addition to being sugary sweet and mild, can be dyed nearly any shade of the color spectrum, opening up the wonders of using chocolate to accent a couple's cake.
That said, when one thinks "wedding cake," it is certainly easy to picture a typical, white-and-pastel frosted wonder of lemon confectionary deliciousness. Indeed, the most popular wedding cake frosting color is still predominantly white, with white or vanilla-flavored cake. While this is an excellent tried-and-true combination, it also smacks of summeriness, and with more and more weddings taking place at other times of the year, having options when it comes to decorating is certainly a good thing.
Say, for example, you're planning a fall wedding. As discussed above, it would be wise not only to take into account the colors of your ceremony (which, hopefully, are fall-appropriate), but to also somehow tie the season into the culinary design. A fun, fresh idea for the cake's exterior would be to include some chocolate leaves or even slightly-less-summery chocolate vine or ivy accents on the superficial surface. Airbrushing is another popular option in cake design, as it allows for precise color application in a wide range of hues. Popular colors to use in fall cakes are rich ambers, crimsons and saffron, all warm, but still sophisticated and unabashedly un-summery.
Even the cake flavor can be tailored to the season. Popular cold-weather variations of the typical white or lemon cake could include chocolate, carrot or red-velvet cake (note that all tie back into the aforementioned 'fall' colors). Again, these are still delightfully sweet, universally-popular flavors, but are a bit more formal than the youthfully-spirited fruit ones that compliment spring and summer ceremonies.
So what about the presentation? Again, chocolate's invariably variable potential presents itself as the clear 'answer' to any uncertainty regarding presentation. The same strategically-placed chocolate leaves and ivy given as an example above could easily be incorporated into the cake's platter or stand, essentially just interwoven into whatever structure is holding the cake. Another idea is to indulge in a chocolate fountain for the overall catering presentation, as there's no better time to enjoy rich, decadent chocolate fondue than when the temperatures begin to drop.
Chocolate leaves to chocolate fountains, carrot cake to red velvet, there are hundreds of options when it comes to planning your wedding cake. Hopefully this article provided you with a few ideas on how to embrace the season in your cake and catering designs. And remember—now you have a legit reason to use copious amounts of delectable chocolate in your ceremony; it's decorative.
Exclusive Wedding Cakes
801.268.2160