WEDDING HISTORY & FAQs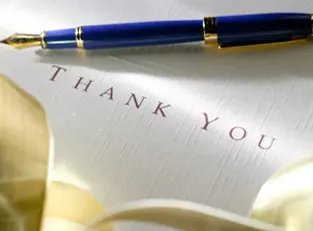 Please & Thanks
A Guide To Wedding Stationery, From Invites To Thank-You Cards
By: Keely Coxon
Now here's a quick question: what is the most important part of planning a wedding? If you answered choosing a venue, finding your perfect dress or something along those lines, you're partly right, but the correct answer is something that is often overlooked-- your wedding correspondence, which includes, but is not limited to, announcements (also known as "invitations") and thank-you notes. Oooh riiiight, that stuff…
Before you go, "Pshhh! Come on, that's the easy part!" let it be brought to everyone's attention that without invitations, you may have a wedding, but no one's going to be there. Uh oh. And without those ever-necessary thank-you notes, you may not be receiving any Christmas gifts this year (or ever), after you matrimonially snub the entire "friends and family" crew. Ouch, indeed.
We may even go so far as to add that, especially in our scrapbooking-obsessed state, choosing stationery that is "not you," or otherwise simply doesn't fit the wedding, is something that is likely to be remembered for years to come. Many of your guests, beginning with your parents, will, at the very least, probably save the wedding announcement and thank-you card, so it's in your best interest to create something that is tasteful and fitting with your wedding theme, even if you cannot afford anything ritzier.
In our email-dependent society, the words "stationery" and "correspondence" often bring to mind images of a 1950s-era Emily Post answering her etiquette mail (yikes!), which is why we decided to ask Christy Christensen, a representative from local company Jaffa Printing, to provide a few pointers on what each bride should count on ordering, and also to tell us about the type of stationery that's out there, including emerging trends. Here is what she had to say.
K: Christy, can you tell us what a bride should plan on ordering, at the very least?
C: At the bare minimum, every bride should plan on ordering invitations or announcements, with a return address printed on the back flap of the outside envelope and enclosures for the ceremony and dinner. RSVP cards with self-address envelopes are also a must for a catered event… and don't forget the thank you cards.
K: Perfect. Now, say a bride wanted to go above and beyond the "bare minimum"… what other things could she order to enhance her ceremony?
C: Optional items include ceremony programs for the wedding and place cards for a luncheon or dinner. A matching menu may betucked inside the napkin, which is placed on each plate for a very formal event. Coordinating tags with the bride and groom's names and date can be punched and tied to any favors that the bride has planned for her guests.
A new trend for brides inviting out-of-town guests is to mail matching save-the-date cards prior to the actual wedding invitation. Accommodation information may be printed on the reverse side of these cards. It is a wonderful gesture, and allows guests to plan for the wedding-day well in advance. Providing them with information about where to stay makes the celebration an alluring destination for everyone.
K: Hmmm. That's interesting, it almost sounds like a vacation! What other trends are you seeing, in terms of wedding stationery and correspondence?
C: Today's announcements are bursting with personality. Brides are looking for unique ideas that will give their guests the first impression of what is to come on their wedding day
The shape has changed from the traditional rectangular shape to a tea-length shape, which is long and slender, an oversized princess card, a pocket invitation or even an invitation in a box.
Multiple photos are very prevalent in today's market; it is not uncommon to have numerous photos printed on an invitation. They allow the bride and groom to share a little bit of themselves with their future guests and are always a favorite on the receiving end.
Bold colors are overwhelmingly popular, from bright oranges and pinks for spring and summer weddings, to metallic colors such as copper, silver and pewter for fall and winter weddings. Instead of printing the text in a colored ink, the color is used in bold ways, such as a solid wash, with reverse type.
Lustrous papers have added a new dimension to announcements. Shine papers have replaced the deckled edge parchment papers of the past. They give the invitation a shimmery, elegant look. It's the perfect amount of "bling" to entice guests to the forthcoming event.
Another current trend is to implement a beautiful motif. These embellishments can transform simple announcements into beautiful wedding stationery. The motif can be repeated on enclosure cards, envelopes, place cards and informals. Including an adornment on the invitation and accessories will make the entire ensemble warm and personal.
Overall, I would say that the neatest thing about wedding invitations today is that the couple is encouraged to express themselves. The current trends in shape, multiple photographs, bold color, lustrous paper and beautiful motifs allow them to do that; to make their announcement unique to them. In the future, we expect to see even more personalization and one-of-a-kind designs.
K: Wow! Those sound amazing!! Thank you so much, Christy, for all of your excellent advice and insight into these exciting new trends.
Okay, so now I kind of wish I was getting married, if only to order the fantastic stationery! Just kidding…. But for the sake of the importance of this matter, let's recap. The key is not only to order the correct forms of stationery and correspondence for the ceremony, but to also keep it fun and make it unique. If Christy's description of these enchantingly creative new trends didn't tempt you to run to the stationery store first thing tomorrow morning, try imagining the chagrin you're going to feel when Aunt Betsy pulls out her scrapbook every Christmas from now until eternity, and that interestingwedding invitation you pulled together at the last minute ends up staring you in the face… again…and again… and again. Yikes!